Allergy Testing for Schertz, Selma, Cibolo & Garden Ridge, TX
Relief Is On Its Way With Allergy Testing From Our Family Doctors
Having allergies can be a nuisance to your everyday life. The constant sniffling, sneezing, coughing, watery eyes, irritated skin, and other symptoms that may characterize your allergies are bothersome and distracting. In order to pinpoint what exactly you're allergic to, we recommend having a complete allergy test performed by your primary care physician at Total Health Primary Care! We're proud to serve the Schertz, Selma, Cibolo & Garden Ridge, TX areas.
Maybe you're allergic to your dog's fur, tree pollen, dust mites, or a combination of all three. Our allergy testing involves an application of the 72 most common allergens in our region of Texas to your back. You'll even have results before you leave our office. There's truly nothing to lose! Call our office today!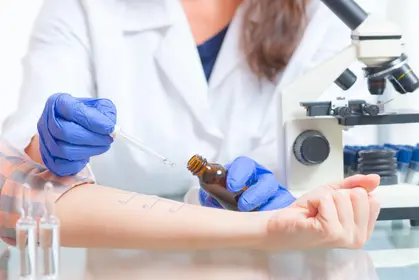 Allergy Testing Consent Form
Before we can perform your allergy test, we'll need you to fill out our allergy testing consent form. It's important for us to understand what allergens seem to irritate you the most, whether you're currently on any allergy medication, what allergy symptoms you currently have, and other information regarding your condition. We'll make every effort to identify what you're allergic to in order to prescribe the best medication for your unique case.